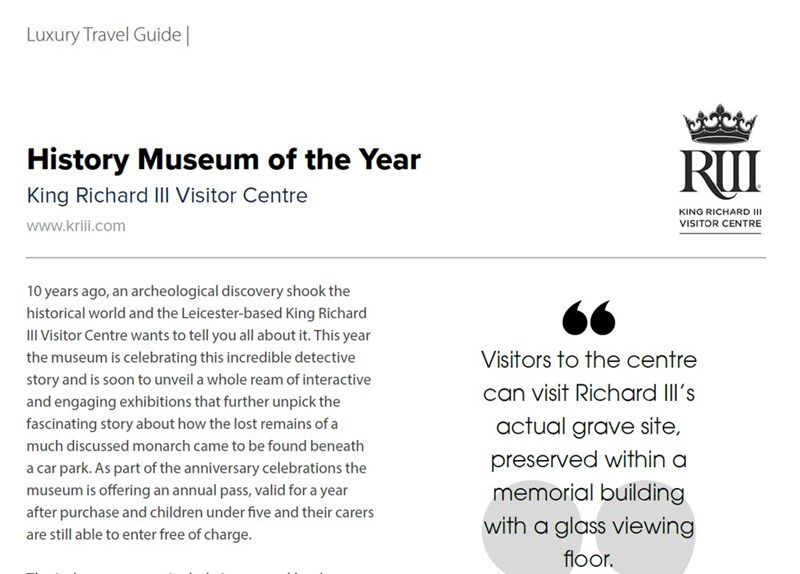 10 years ago, an archaeological discovery shook the historical world and the Leicester-based King Richard III Visitor Centre wants to tell you all about it.
The museum is celebrating this incredible detective story and is soon to unveil a whole ream of interactive and engaging exhibitions that further unpick the fascinating story about how the lost remains of a much discussed monarch came to be found beneath a car park. As part of the anniversary celebrations the museum is offering an annual pass, valid for a year after purchase and children under five and their carers are still able to enter free of charge. The judges were particularly impressed by the immersive displays and spectacular exhibitions which provide enthralling details concerning the recent discovery of Richard III.
Visitors can visit the actual grave site, preserved within a memorial building with a glass viewing floor, while listening to beautiful storytelling that combines the very latest in interactive displays to reveal the specifics of the 15th century monarch's life and death. The museum goes into great detail about how the English king was finally discovered, his role in the great battle that would end his life, and how 21st century DNA testing finally gave us the truth about his journey. Take a trip back in time to expose a story that is truly stranger than fiction.
Luxury Travel Guide, Global Awards 2022/23