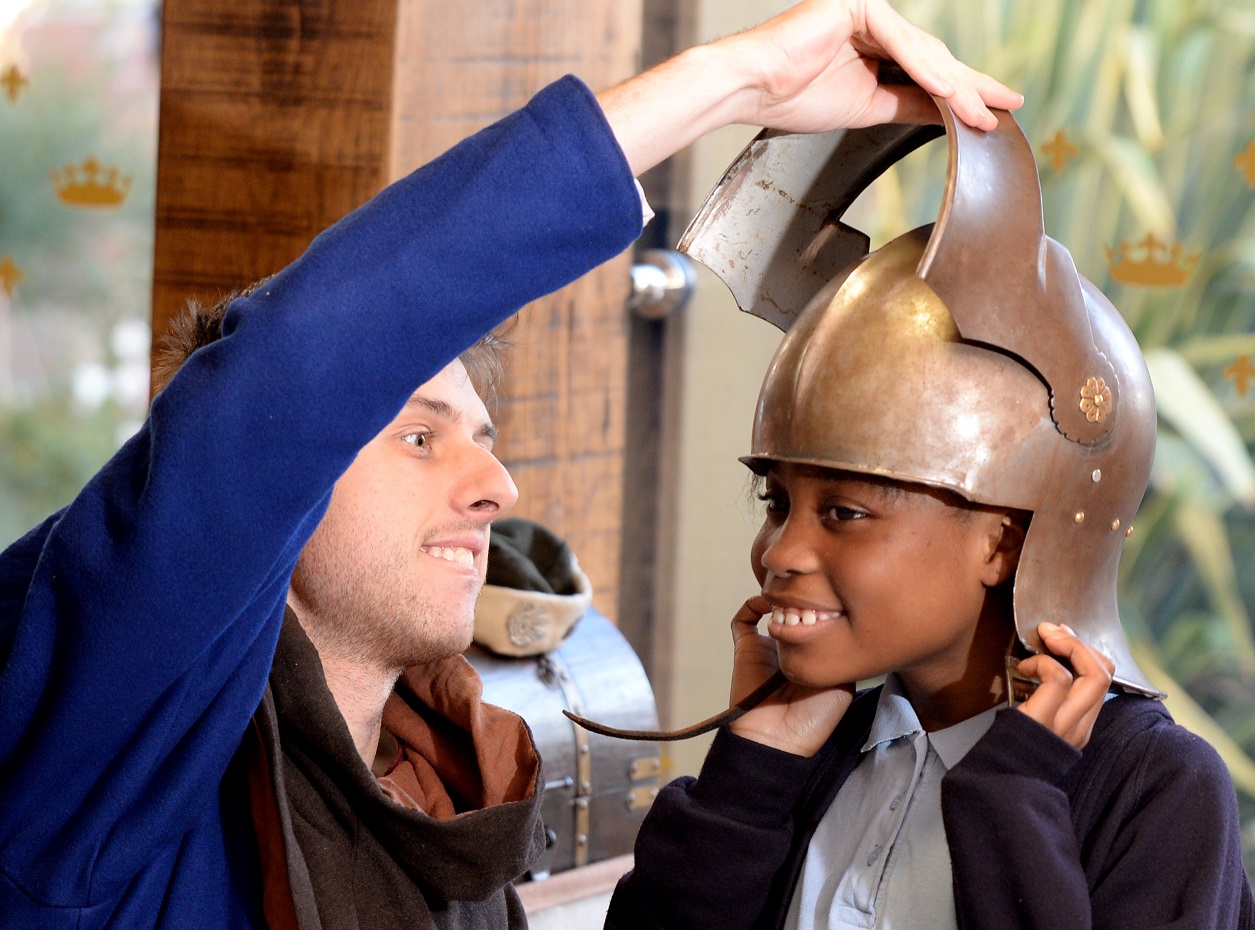 Combine an exhibition visit with our medieval knight workshop for £7.75 per pupil.
Duration: Each workshop lasts between 45-50 minutes and can be combined with an exhibition visit for a whole day visit.
There are two medieval knight workshops to choose from:
Arming the Knight
Find out all about the lengthy process of putting on a suit of armour. Exactly how much does it weigh, how hard is it to mount a horse and how do you go to the toilet whilst wearing it? Just why did medieval knights wear these big, clunky metal suits and how did they protect them against the vicious weapons of the day? Find out all this and more, handle pieces of armour, and watch as one of your teachers is transformed into a medieval knight.
Re-enact the Battle! 
Choose your side – either Sir Percival Thirlwall, fighting for King Richard III, or Sir Rhys ap Thomas, fighting for Henry Tudor, Earl of Richmond. Aligned to your armies, armed with swords and an insider's view, hold your battle standards high and enact the events of the Battle of Bosworth! Learn of the allegiances and motivations of the key characters involved, find out about the battle tactics used and how it all culminated in the end of Richard III's reign on that fateful day in August 1485.
Learning outcomes
• Students will learn about the life of an individual who fought at the Battle of Bosworth.
• Students will learn about the Battle of Bosworth, the loyalties and motivations of those involved, and the significance of this event in the War of the Roses and English history.
• Students will learn about the different components of a full suit of armour, handle the pieces and see how they combine to protect the soldier's body whilst fighting.
• Students will learn about the difference in life for the wealthy and the poor at this period, and their different roles on the battlefield.
• Students will learn about the different weapons used in pitched battles in the late medieval period, the medical care available and the tactics used by commanders to attack and defend.
National Curriculum links
History: Local History Study KS2/KS3; Development of church, state and society in Medieval Britain, the Wars of the Roses KS3
To book this workshop as part of your visit, please email or call 0116 229 4132