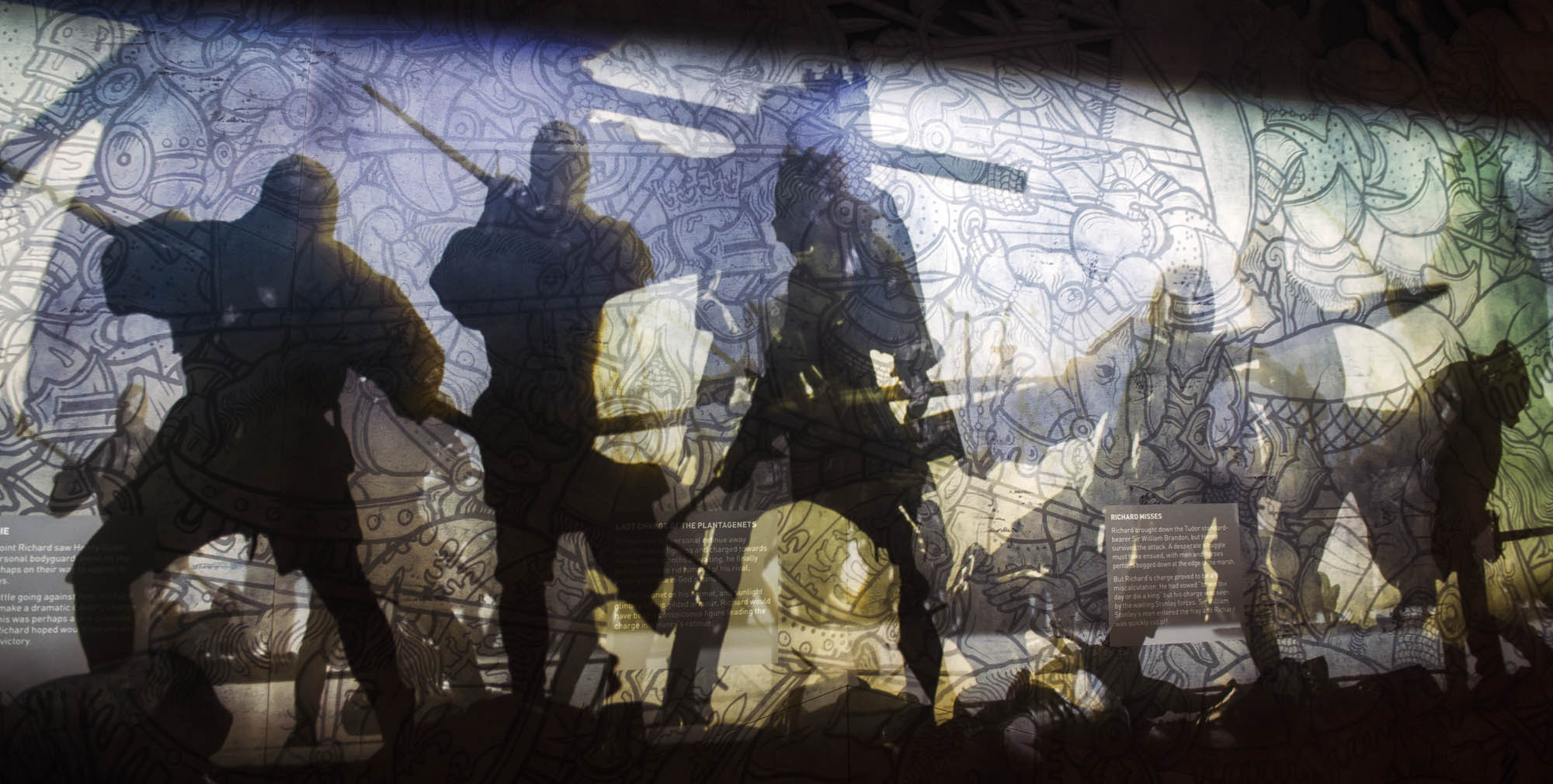 There are lots of things to see and do while you are visiting Leicester.
We've included some Richard III related ideas below, but for more information, ask one of our team, we are also home to Visit Leicester the Tourist Information Centre, our team can provide information on everything and anything to see and do, eat and drink, shop, visit or stay, in the city where tourism began.
Discover more of King Richard III's story and medieval Leicester
Bosworth Battlefield Heritage Centre & Country Park
The site where the last English King to die in battle occurred. We sell a fantastic value Joint Ticket for both the King Richard III Visitor Centre and the Bosworth Battlefield Heritage Centre, ask at the ticket desk at either venue. Find out more here.
Richard III Walking Trail
Why not try the King Richard III self-guided walking trail? These are available from the Visitor Centre gift shop for £2 or can be downloaded here for Free
Leicester Cathedral
Leicester Cathedral sits opposite the Visitor Centre and is home to the final resting place of the King. Currently undergoing major refurbishment, the Cathedral will re-open on the 26th of November 2023. Find out more.
The Guildhall
The Guildhall dates back to medieval times and would have been a building of importance during the time of King Richard III. Find out more here.
Richard III Statue
A bronze statue depicting Richard III was commissioned by the Richard III Society in 1980. It once stood in Castle Gardens, but was relocated to Cathedral Gardens, outside of the King Richard III Visitor Centre in 2014.
Bow Bridge
The present Bow Bridge replaced an earlier medieval structure over which King Richard III rode on his way to battle in Bosworth. The present bridge, built in 1861, depicts the white rose of York, the Tudor Rose, Richard's White Boar emblem and his motto "Loyaulte me lie" (loyalty binds me).
The Magazine Gateway
The gateway, built around 1410, would once have been the entrance to the religious precinct called the Newarke, and was once called the Newarke Gateway. Today it is known as the Magazine Gateway in reference to its use as a gunpowder store during the English Civil War. Tours can be arranged via the Newarke Houses Museum team.
Leicester Heritage Trails
Over 300 Heritage Panels have been installed across the city and you can visit them with our self-guided walking trail? These are available from the Visitor Centre gift shop for £5 or can be downloaded here for Free