Freshly made scones and the Visitor Centre's White Boar Café go together like salt and pepper. Since it opened in July 2014, the spectacular scent of homemade (well, Visitor Centre made) scones has filled the café's kitchen most mornings.
Carl is Catering Manager at the Café and it's usually his baking expertise that produces the scones however this year, he's been sharing some of his tips with two new recruits to the Café team – Tyler and Emily.
Tyler started at the Visitor Centre in November on an internship arranged with Connexions Leicester. He began by training in the Exhibition Volunteer role, talking to visitors about our incredible story. Tyler then moved into the Visitor Services team for a few months and is now finishing with a stint in the Café, where he has passed his Level 1 Food Hygiene qualification.
Tyler is a looked after child in foster care and this placement is the first time the Visitor Centre has worked with the Connexions team to host a supported internship. Tyler is a real asset to our team, he's always happy to get stuck in and we will miss him when his internship comes to an end at the end of the month.
Emily started at the Centre in March, as a Catering Assistant in the Café, on a contract which has been part funded by Y Heritage. Emily was recruited to this post as part of the Y Heritage/Kick the Dust project, which aims to make jobs in heritage more accessible to young people, particularly those who come from disadvantaged backgrounds. The project receives funding from the National Lottery Heritage Fund, which the Visitor Centre are very grateful for.
Emily will be a part of our team for 12 months and has already passed her Level 1 Food Hygiene qualification. Her welcoming smile and calm attitude are a great addition to our Café team.
The Scone Off
To celebrate Tyler and Emily's achievements, they have gone head to head with Carl in a "Scone Off", which is remarkably similar in format to a very popular Channel 4 programme. The brief to the bakers was simple – bake some delicious scones, with extra points available to those who explore different flavours.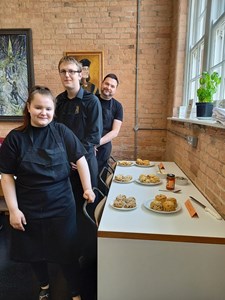 As you can imagine, volunteers for the judging panel were numerous. We were delighted to welcome along Juliet from The Y, Kuldeep from Connexions Leicester, and Lorraine from Tyler's school as well as several members of the Visitor Centre team, who also decided to be judges!
And the winner was…. Well, all three scone flavours and bakes were amazing; it was tough to choose between Carl's chocolate chip and banana, Emily's salted caramel and Tyler's chocolate and orange but Tyler's creations were named top choice.  There is no truth in the rumour that Carl set Tyler to work in the kitchen to bake a batch as soon as proceedings drew to a close!